The premium edition of the HUAWEI MateBook X Pro high-performance flagship laptop is now available in a bright white color scheme on Huawei's official website and selected retail stores in the United Arab Emirates.
The HUAWEI MateBook X Pro Premium Edition is made of lightweight and strong magnesium alloy, a material that is widely used in the aviation, automotive, and DSLR industries. An additional layer of coating is added to the surface of the laptop to give it corrosion and wear resistance. But instead of the traditional sandblasting anodizing process, the HUAWEI MateBook X Pro uses a micro-arc oxidation coating process that generates zero toxic substances and zero heavy metals as by-products, making it more environmentally friendly. The presence of a skin-smoothing metallic paint process on the surface also adds a beautiful matte finish to the laptop.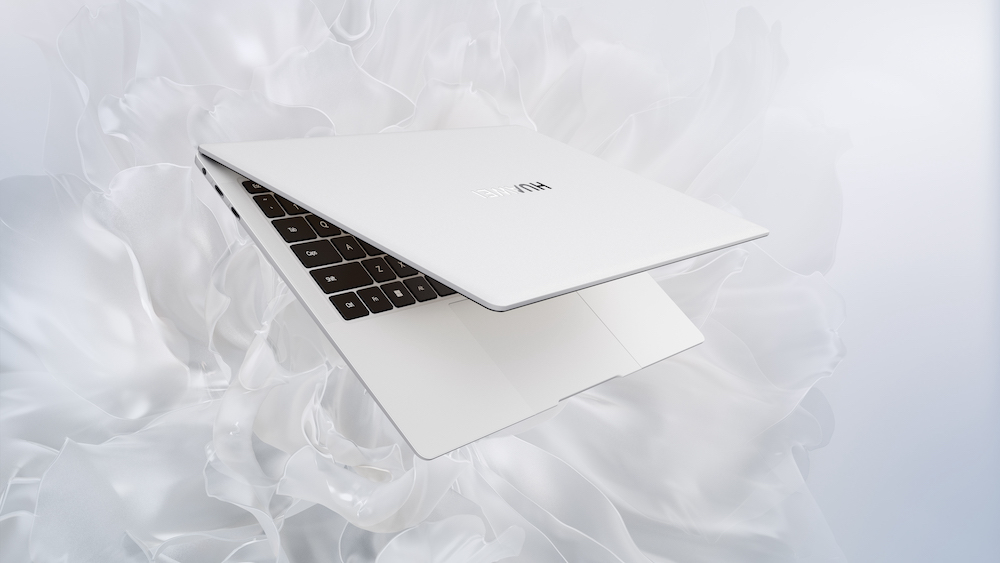 HUAWEI MateBook X Pro 2022 Windows 11 Home i7/16GB/1TB/Touch Screen/ Magnesium/ White Color
The HUAWEI MateBook X Pro brings the signature design and innovative DNA of the MateBook series with a unique new minimalist design highlighted by a 3.1K True Color FullView display and an ultra-slim magnesium alloy body. Thanks to EvoTM certificate 12theGen Intel® Core™ processor, consumers can expect unparalleled peak performances at all times. As well as futuristic Super Device features, which enable seamless collaboration between multiple devices, adding fun to the overall user experience.
3.1K True Color FullView Display and Ultra-Slim Magnesium Alloy Body
The new HUAWEI MateBook X Pro features a 14.2-inch high-resolution 3.1K (3120 x 2080) 264 PPI display with the iconic HUAWEI Real Color FullView Display and advanced Universal Color Consistency technology that creates a seamless experience. Outstanding visual with amazing effects. Additionally, consumers can switch between a 60Hz and 90Hz refresh rate based on their actual needs. By applying advanced techniques such as micro-arc oxidation plating process, a new skin-calming metal body is created from magnesium alloys for the new HUAWEI MateBook X Pro. The notebook weighs only 1.26 kg , which makes it very portable.
powerful performance
The new MateBook X Pro has 12the Gen Intel® Core™ processor and get Intel Evo™ certification for the entire series. It achieves a thermal design power (TDP) of 30W in performance mode. This flagship comes with 16GB LPDDR5 5200MHz dual-channel high-speed memory and supports up to 1TB NVMe PCIe SSD (512GB is also available for consumers to choose from) for more efficient reading, storage and compression of large files. and smoother switching between multiple tasks.
Features of the super device
The HUAWEI MateBook X Pro takes multi-device collaboration to a whole new level, thanks to Super Device, bringing super productivity with a cohesive multi-device experience. It allows users to effortlessly connect to other nearby Huawei devices and collaborate with each other. Simply place HUAWEI FreeBuds Pro 2, mice, keyboards, speakers, and printers near HUAWEI MateBook X Pro, and the laptop will automatically detect them and provide a prompt for quick and easy pairing.
Plus, with smartphones like the newly released HUAWEI Mate Xs 2 and tablets like the new HUAWEI MatePad Pro, it's even more useful. Once users have connected their phone wirelessly, they will see its UI (user interface) appear on their laptop screen, so they can operate it as if their smartphone and laptop were one device. Users can access and edit their files, use and manage up to three phone application windows simultaneously, make video or audio calls from their phone through the MateBook, and even use the mouse and keyboard to control their smartphones. The HUAWEI MateBook X Pro can also connect to a HUAWEI MateView monitor, so you can see your work on an even bigger screen.
The pressure-sensitive touchpad on the new HUAWEI MateBook X Pro uses eight independent piezoelectric ceramic plates for comprehensive vibration feedback. The touch panel responds to touches instantly. In addition, the HUAWEI MateBook X Pro comes with an HD camera on the top narrow bezel, which integrates AI camera functions to support Beauty, Virtual Background, FollowCam, and Eye Contact video effects. Consumers can select and apply video effects by going to the Control Center at any time.
Consumers also get a super-large 60Wh (rated capacity) battery and a compact 90W SuperCharge-compatible charger with the HUAWEI MateBook X Pro. The charger can be used to charge computers, phones and tablets, making it a the perfect companion on the go. The laptop also features a quad microphone setup that is positioned along the edges of the laptop. Together, they support voice pickup from sources up to five meters away. In addition, during a call, even if the other party's device does not support noise reduction, the AI ​​noise reduction algorithm of the receiving signal can also perform noise reduction on the other party's voice. The HUAWEI MateBook X Pro is also equipped with six speakers. The sound system, in combination with Huawei's Targeted Sound Field technology, delivers impressive stereo sound with clear sound layers and a sense of direction.
The new HUAWEI MateBook X Pro 2022 Windows 11 Home i7/16GB/1TB/Touch Screen/ Magnesium/ White color is available in the United Arab Emirates at a price of AED 8,499 with gifts worth AED 1,999, including: HUAWEI MatePad, HUAWEI Bluetooth Mouse, HUAWEI Laptop Bag, MS Office 365 Package, 20% discount on HAUWEI Care Packages.