Techlicious editors independently review products. To help support our mission, we may earn affiliate commissions from links contained on this page.
Is it time to upgrade to a new Samsung Galaxy phone? For Samsung Galaxy S and Note users, the new line of Galaxy S22 phones has a lot to offer. The S22 Ultra is the first Note replacement since the Galaxy Note 20 in August 2020, and all new S22-series phones receive a boost in processing power to deliver major feature upgrades.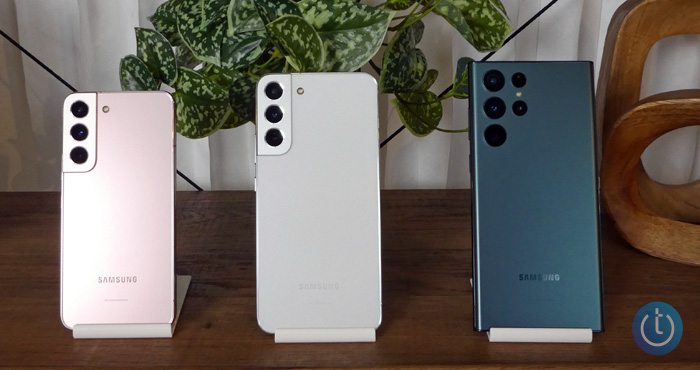 The entire Galaxy S22 series, S22 (top left), S22+ (top center) and S22 Ultra (top right), will use a new 4nm technology processor. With more transistors built into the new processor, it will be five percent faster than the Qualcomm Snapdragon 888 used in last year's models, which use 5nm technology. The graphics processing unit gets a 40 percent boost. The phones also feature a new Neural Processing Unit (NPU), which Samsung says is twice as fast as the chip used in last year's models.
Improvements in processing power will be most noticeable in new camera features. For example, with the new improved Portrait mode, the camera can now "see" individual strands of hair or fur due to better stereo depth mapping. People and pets will appear more realistically from their backgrounds.
When recording a video, you can now automatically track up to 10 people at a distance of up to five meters and keep them in the frame. Last year's models could track three people and up to three meters. With the extra processing power, the phone can predict your movements and take them into account to correct the camera angle and keep everyone in the shot. In my limited hands-on testing, it was easy to select people to follow, and the camera did an admirable job of keeping people in the frame.
And for Samsung's Super Space zoom, 30x (for the S22 and S22+) or 100x digital zoom, the camera can process four times more uncompressed image data for a sharper image.
Super Steady Shot gets a huge boost. S22-series cameras now process four times as many frames to create smoother video. And all cameras have a wider field of view: the main lens of the S22 Ultra is two percent wider, and the main lens of the S22 and S22+ is eight percent wider. So the new Super Steady Shot should be noticeably better between these two updates.
The screens will be 6.1-inches for the S22, 6.6-inches for the S22+, and 6.8-inches for the S22 Ultra (shown below), but they get a new technology called VisionBooster. As a result, when you're outside on a sunny day, the screen will not only get brighter so you can still see it, but the contrast and colors will be adjusted for a more accurate picture. It was a rainy, gray day when I got a chance to see the new phones, so I can't attest to the improved picture quality.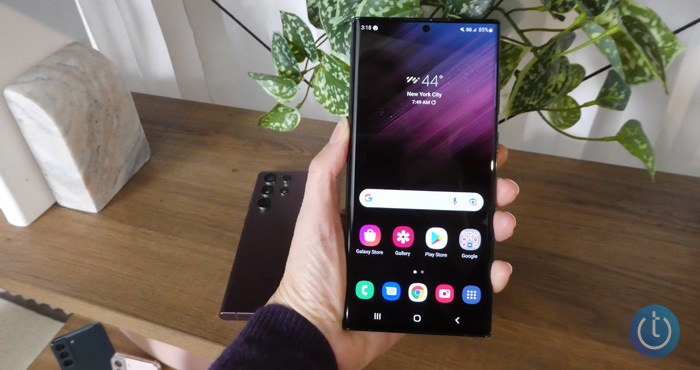 The S22 Ultra has a new S-Pen with lower latency than the Note 20. Now the phone will anticipate the direction you're writing or drawing for a more realistic pen-and-paper experience. In my limited testing, the typing experience was smooth and the screen had good palm rejection. And as with previous generation Note phones, the S-Pen is stored on the phone and runs S-Pen tasks when you remove it.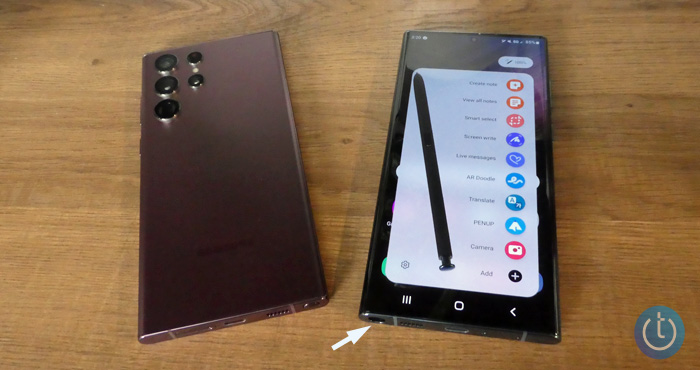 The S22 Ultra and S22+ now support 45W Super Fast Charging. So in 20 minutes, you can get 50 percent more charge. The S22 will support 25-watt charging. Neither phone will come with chargers in the box.
All S22 series phones support UWB and mmw 5G, and the S22 Ultra and S22+ are compatible. WiFi 6Ewhich has a 6 GHz band in addition to 5 GHz and 2.4 GHz.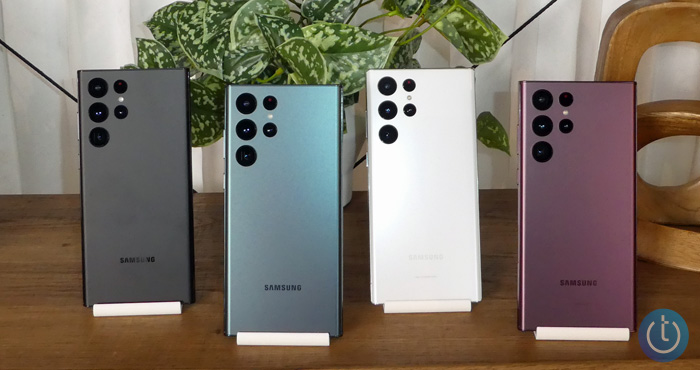 All Galaxy S22 series phones are pre-ordering today. The S22 Ultra is $1,199.99 and comes in Phantom Black, Green, Phantom White, and Burgundy (shown above). The S22 is $799.99, the S22+ is $999.99, and both come in Phantom Black, Phantom White, Green, and Pink Gold.
[Image credit: Suzanne Kantra/Techlicious]
For over 20 years, Techlicious founder Suzanne Kantra has been exploring and writing about the world's most exciting and important science and technology topics. Prior to Techlicious, Suzanne was Technology Editor for Martha Stewart Living Omnimedia and Senior Technology Editor for Popular Science. Suzanne has appeared on CNN, CBS and NBC.