Fitbit has been in the business of keeping us active for a while now, joining the original Apple Watch and Samsung Galaxy Watch by adding an ECG sensor for monitoring heart health to the original Fitbit Sense smartwatch. For its second generation, the firm wants to help keep stressful moments under control.
It lands at the same time as the google pixel clock, which now sits at the head of the Google/Fitbit smartwatch family. However, the two devices take very different approaches. Is the Sense 2 the Fitbit smartwatch you should choose?
design and build
Fitbit has ditched the OG Sense's poor haptic controls for something more traditional, adding a physical button while keeping the overall familiar look. It's much more useful when you don't want to dive into menus or scroll through various home screens just to activate Amazon Alexa or access the exercise menu.
It's all packed into a 40.5mm aluminum case, with smooth curves to give this square smartwatch a more elegant feel.
You can choose from three case colors and a typically rich assortment of watch straps if you want to swap out the included silicone one (which comes in small and large sizes) for a flax vegan leather one.
If you want to take the Sense 2 for a dip, it's suitable for submersion in water up to 50 meters deep. It will track swimming stats in the pool, but when heading out into the open water, those metrics are off limits.
Screen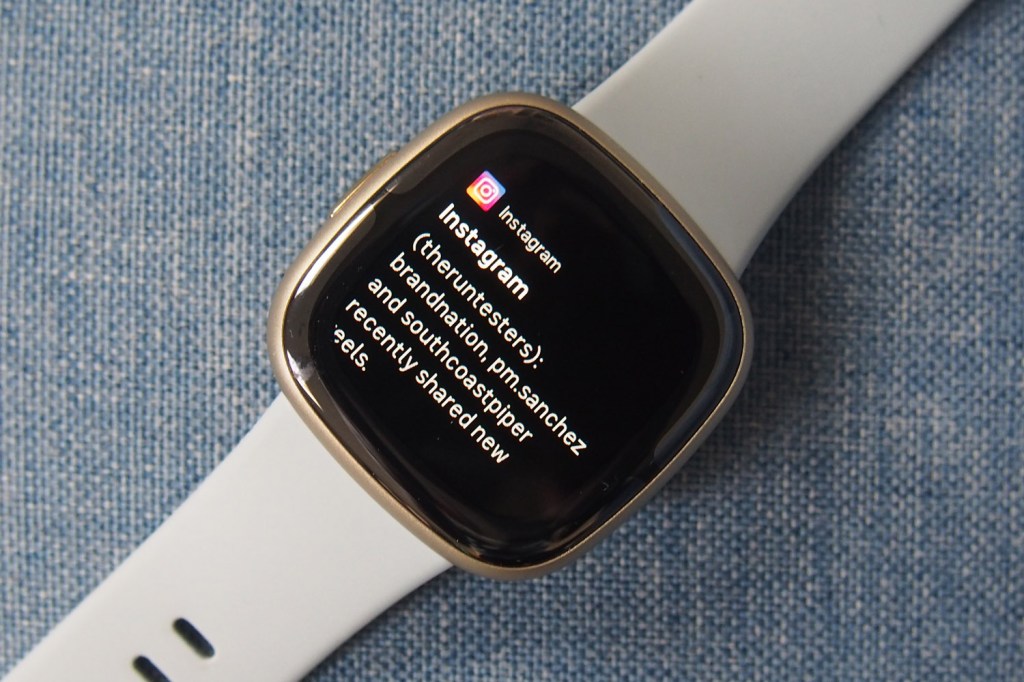 Fitbit isn't bringing any big changes in the display department either. It's the same 1.58-inch, 336×336-resolution rectangular AMOLED that's bright, vibrant, and delivers really rich colors.
It's a screen that can also stay on all the time, to the detriment of overall battery life, but visibility is perfectly acceptable even when walking outside in bright light. This is where AMOLED screens can struggle, but we had no trouble quickly checking our daily step count.
If you're not pressing that physical button to wake it up, you can do a quick double-tap on the screen or use the lift-to-wake gesture. The screen will then gently wake instead of turning on instantly.
This is a display that unfortunately doesn't escape a dreaded black bezel, although in this case it's well masked by the collection of preloaded watch faces.
Interface
FitbitOS takes care of everything software-related, unlike Wear OS on the Google Pixel Watch. It has a similar feel to the version of the OS that was used on the first Sense, with a few tweaks made in terms of where the swipe now takes you.
It also now brings the physical button into play to push it to your app screen, though going from one screen to the next feels a bit slow.
More interesting here is what there is No here, as Fitbit seems to have streamlined the overall smartwatch experience. There's no Wi-Fi, no music player, or option to use Google Assistant like you could on its predecessor. It seems that there is no longer support for third-party applications.
You can still see notifications from Android phones and iPhones, summon Amazon Alexa (with text-based responses to your queries), and Fitbit Pay is on board to enable contactless payments.
Some Google apps will be added in the future, with Google Maps and Google Wallet labeled "coming soon." It will also get Bluetooth calling support at some point, so it will become a better smartwatch, but not on the same level as the previous Sense.
Fitness and Health Tracking
This is really what you're buying a Fitbit Sense 2 for, and unlike the cheaper Versa 4, you're getting the full package when it comes to managing your health and stress.
It'll still count steps, monitor sleep, and track heart rate, and it'll do it all with a nice level of accuracy. You'll also get an ECG sensor, which can be used to detect heart conditions like atrial fibrillation. You won't find that on Fitbit's cheaper Versa smartwatch.
An array of optical and infrared sensors tracks SpO2 levels and skin temperature during sleep. Fitbit has also updated its EDA sensor, which along with on-the-spot readings can now continuously monitor when the body might be experiencing signs of stress. It'll trigger notifications on a regular basis to ask how you're feeling throughout the day, at which point you can go straight to the Fitbit phone app and its range of mindfulness modes to return to a calmer state.
When you want to crank up the intensity, Fitbit offers pretty much the same fitness-focused features as the first Sense. It has a built-in GPS, a host of training modes including running, cycling, and yoga, and it can also track swimming in the pool. It will generate cardio fitness scores to provide a window into your current fitness level, give credit when you hit fat-burning heart rate zones, and tell you when to train based on your daily fitness scores.
Still, it's fair to say that Fitbit's sports tracking prowess doesn't exactly rival what a similarly priced Garmin, Polar, or Coros watch can offer in accuracy, or the level of metrics and analytics you'll get. Fitbit's sports tracking feels designed to boost its other features, but it definitely feels more geared toward casual gym-goers, or anyone just starting to fit more workout time into their daily routines.
Battery duration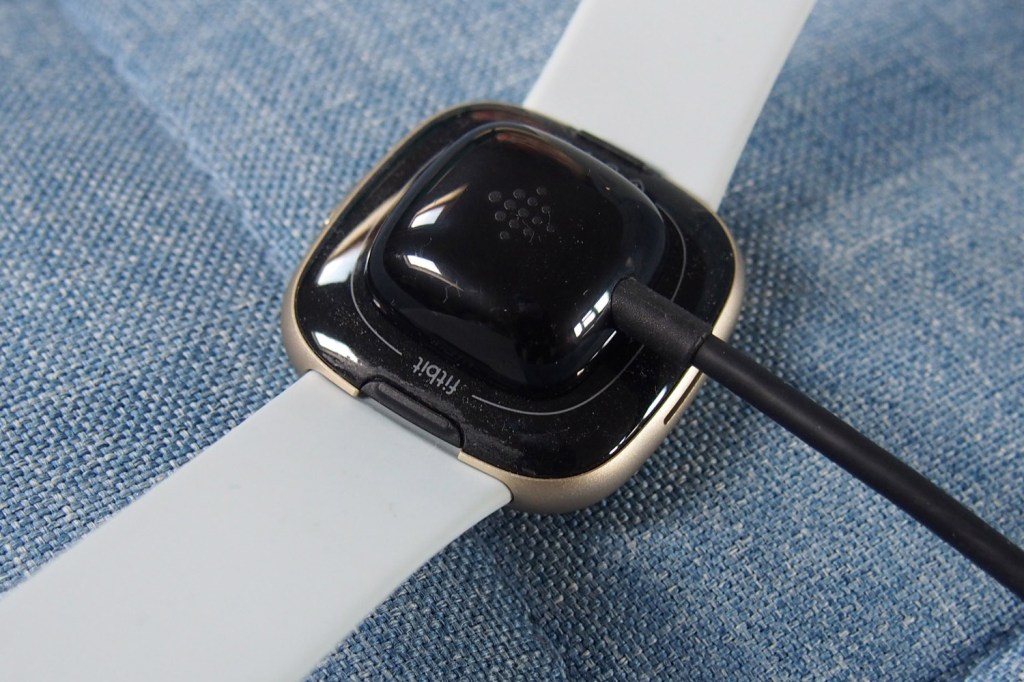 Like the first Sense, the Sense 2 promises to last more than a week between charges. That is as long as you don't keep that screen on 24/7, among other things.
If you put it on always-on mode, you'll be looking at it for 2-3 days, depending on what other features you're putting it to good use. Live without the permanently lit screen and this will comfortably give you six or seven days of monitoring metrics like heart rate, stress, sleep and steps.
Features like GPS and the new EDA sensor suck up the battery faster, so fast-charging capability is welcome. It only takes 12 minutes to give you another day of viewing time, which is ideal if you forget to charge it overnight and need a quick top-up while frantically brushing your teeth.
The charging base remains the same as the one used in the first Sense. It's small, lightweight, and magnetically attaches to the back of your watch case, but it's still a bit flimsy. Choosing a tidy charging station is the way to go.
Fitbit Sense 2 Verdict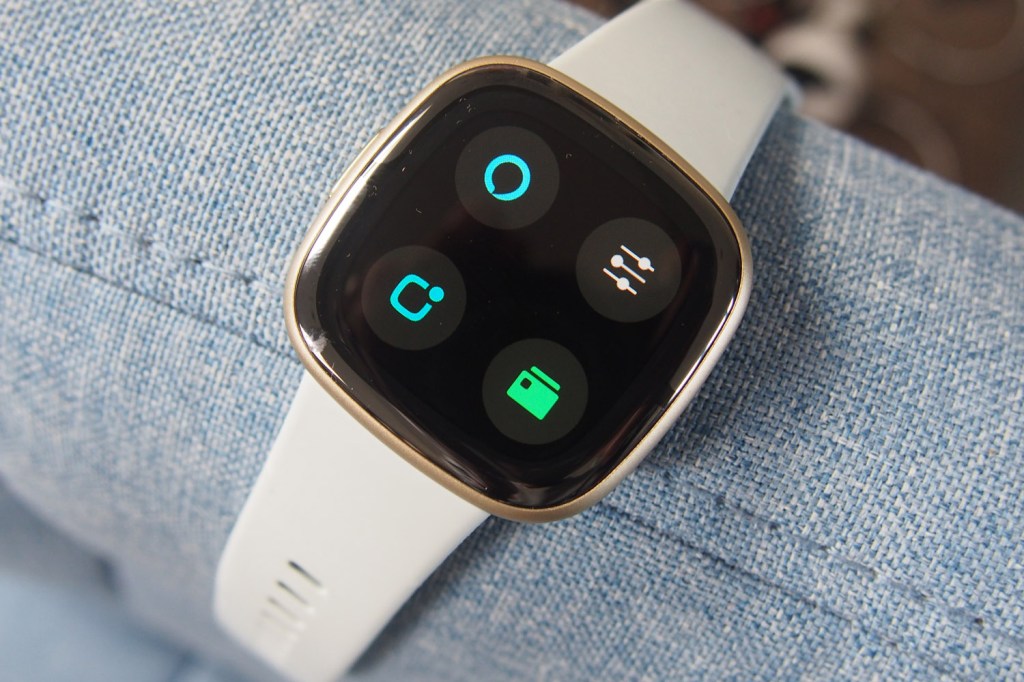 As a smartwatch that prioritizes health, stress, and sleep monitoring, the Sense 2 offers plenty to satisfy most.
Outside of that, the Sense 2 feels like an inferior smartwatch to both its predecessor and the new Google Pixel Watch, which packs much of Fitbit's smarts.
The result is a solid health and wellness monitoring watch that offers reliable sleep and heart rate stats, and a smartwatch that misses out on third-party apps, any kind of music features, and is waiting for some great Google apps to arrive. .
If you want the best smartwatch out there, this isn't it. If you want the best Fitbit smartwatch, there's not much that separates the Sense 2 from what the Versa 4 can do for less money.
Fitbit Sense 2 Technical Specifications
| | |
| --- | --- |
| Screen | 1.58 inches, 336 × 336 AMOLED |
| operating system | Fitbit OS |
| Drums | 6+ days |
| connectivity | Bluetooth |
| Durability | 5ATM water resistant |
| Dimensions | 41x41x12.3mm |